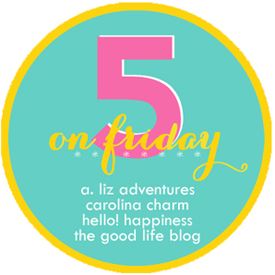 TGIF.
1 // WEARING
Forever 21 Sweet Sophisticate Shift Dress
$22.80
I love when I wear something from Forever 21 and people are shocked when I say where it's from. Sadly my "Forever finds" are few these days... but there is still hope among the crop tops. I was on the hunt for a versatile dress to wear with black tights and my suede over the knee
Stuart Weitzman 5050
boots that I got for Christmas. When it starts to warm up I'll ditch the tights and wear with booties.
2 // READING
More reading, less Bravo. My first book of the year was
David & Goliath
by Malcolm Gladwell.
3 // EATING
I could have grilled cheese and tomato soup everyday.
4 // DRINKING
Chef'n Citrus Juicer
$24.95
I am always on these random health and beauty kicks. The latest is drinking warm lemon water every morning. I attempted this once before... I failed to stock up on lemons. Back at it... bring on the
benefits
!
5 // LOVING
Sugar Paper Lobster Card
$6.00
Awwwwww. Cute.
Thanks to
April
,
Christina
,
Darci
, and
Natasha
for hosting this linkup.
Happy Weekending!