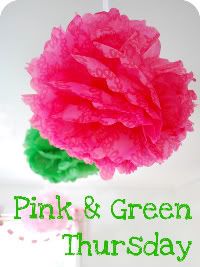 The week is flying by! The star of today's Pink and Green Thursday is the preppy alligator. We'll start with the original...but there is a twist.
Have you heard about the collaboration between Lacoste and Catherine Malandrino? The line will be coming out mid-April, you can view pieces from the collection
here
. The 80-year-old logo features a kissing pair, a bold change. "We might change the color, and we have used an enlarged one, but it was a big deal to turn the crocodile around." - CEO Steve Birkhold told WWD.
I think I'll stick with the classic polo. Now onto some other preppy gators... from the home to your feet!
There are unlimited amounts of cute pink and green alligator apparel and accessories for children. This one made me laugh!
Be sure to visit Trish at
Pink Preppy Lilly Lover
for her always fabulous P&G selection! :)