>
One of the popular attractions in the town of Oak Bluffs on Martha's Vineyard are the colorful Victorian "gingerbread" cottages. While walking around the area known as the Campground I had a very pink moment when I spotted this house. A family was sitting on the porch so I felt a little awkward taking a photograph at the time... but wouldn't let it go. We checked back after dinner and they were inside so we snapped away.
Each summer there is Grand Illumination Night where traditional Oriental paper lanterns are hung outside the cottages. This year's celebration is set for August 17th. I've never been, but hope to go at some point!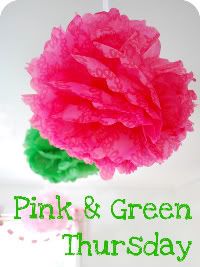 As always thanks to Trish at
Pink Preppy Lilly Lover
for hosting the perfect color combo day. For more pink and green click above. Have a fab day!