Exactly one year ago Ted and I were cruising in the Bahamas... sipping on scotch and martinis. Ahh... the life! Unfortunatley timing did not allow for a spring break trip this year. Note to self, squeeze in a WARM vacation next winter.
Striking a pose in the Viking Crown Lounge, the highest area on board for guests. I remember looking out and seeing nothing but ocean.
Today's Pink & Green Thursday is dedicated to a selection of favorite June-September cocktails.
Every summer when I'm on Martha's Vineyard I look forward to martinis at
David Ryan's Restaurant
. The atmosphere is laid back and the owners are really friendly. It's garanteed I'll either start or end one of my big nights there with a pink or green drink in hand. One of my favorite martinis on the menu is Sex on the Vineyard - Stoli Orange, Midori and pineapple juice.
The truth is at most of the crowded bars I frequent a martini would be spilled over by someone bumping into me before I could take the first sip. In this case, vodka, soda with a splash of cran is always a safe bet (and somewhat low-calorie). With my friend Kate at The Wharf on the Vineyard. She lives in Boston and I don't see her enough! Much easier for us to meet up in the summertime.
Pictured here are Local Hookers, THE DRINKS!! You all, hooker=fisherman, I know what you were thinking. Kate and I just had to try while at
Brax Landing
on the Cape. Unfortunately a Google search is not pulling in the appropriate content I am looking for regarding this cocktail. I just remember it had Jack Daniels in the mix. The restaurant must sell shirts sporting the drink name as I spotted one at New England Country Fest in the stands last year.
Last but not least, I would like to note that I am not always boozing although it may appear otherwise. Shirley Temple, with extra cherries please!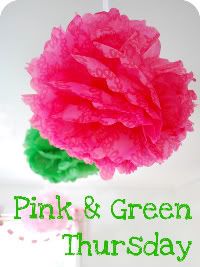 What's your favorite bevvy? Please remember to pink and green responsibly! (So cheesy... but had to say it.) Thanks to Trish at
Pink Preppy Lilly Lover
for hosting. For more of the perfect color combo click above to see her stellar selection of photos and visit the blogs below. Cheers!