It's Pink and Green Thursday! I came across this model feline on Etsy. Best of all his name is Toki Nantucket. I always wanted a cat growing up but my mother told me she was allergic and that was the end of it. I found out a few years ago that was lie...
Anway, here are a few of my favorite pink and green accessory picks from the week. The first was inspired by Toki himself.
While on the subject of pink, my gift for the Kappa Prep
Pink Swap
was sent off to Susie of
Hillcrest Acres
.
Here's a look at what was inside...
She did a lovely
post
with a sneak peak of what I will be receiving, I can't wait! If you participated I would love to see what you swapped.
And finally to wrap up, I just love this limited edition Milly pink palette from Clinique - it would make the perfect gift: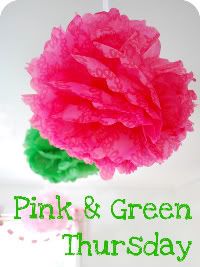 As always thanks to Trish at
Pink Preppy Lilly Lover
for hosting the perfect color combo day. For more pink and green click above and visit the blogs below.
Cheers!